2020-12-1 更新到Ninja Pinner v 7.9.1
官方网站 http://ninjapinner.com/
功能如下:
多账号管理
自动收集user和pin
自动follow
自动unfollow
自动like
自动评论
自动re-pin
用法很简单,能节省很多人力
The NinjaPinner robot handles all of the grunt work for you and SAVES you time! The proprietary software includes the following features:
– Target your market based on specific keywords.
– Gather user and pin id's from any page on Pinterest.com.
– Filter Pinterest users by follower, following and likes.
– Auto Follow feature that allows you to mass follow other users fast, gaining you thousands of followers back.
– Auto Unfollow function that allows you to mass unfollow users that don't follow you.
– Choose to exclude people you've followed ___ days ago so you can give Pinterest users time to respond before unfollowing them.
– Schedule your follows, unfollows, likes, repins, comments and invites to automatically be sent at a specified time and at specified intervals.
– Auto Pin feature that allows you to mass re-pin other images on autopilot getting you exposure.
– Re-pin URL swap function allowing you to substitute YOUR links when you re-pin content.
– Auto Commenter feature that allows you to send out comments to all others users.
– Auto Comment rotation which allows you to send comments from a list of different pre-written comments. Queue up as many variations as you like.
– Import and export ID's.
– Time delay feature to protect your account.
– The ability to use Spintax in comments and pin captions/URL's.
– Auto-invite/uninvite others to follow your boards.
– Auto like feature that allows you to mass like pins.
– Create a "Black List" for ID's you want to exclude.
– Use unlimited Pinterest.com accounts (unlimited licence only).
– When repinning you can change the caption of the pin, keep the current caption, or add to the current caption.
– Comes with a NinjaPinner News Bulletin to keep you up to date with the latest news.
– Free product updates, support and technical assistance for LIFE.
– Various other settings, see the screenshot below!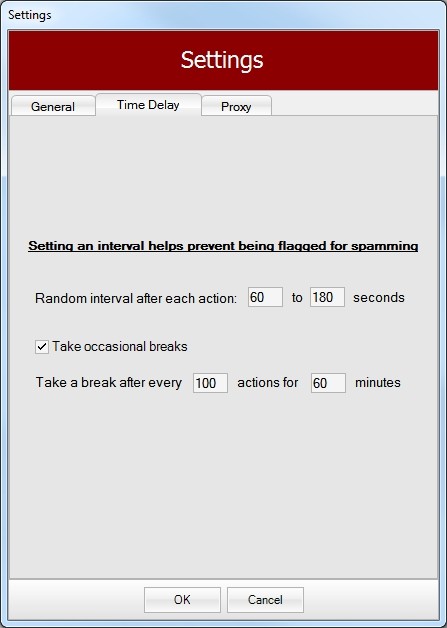 ---